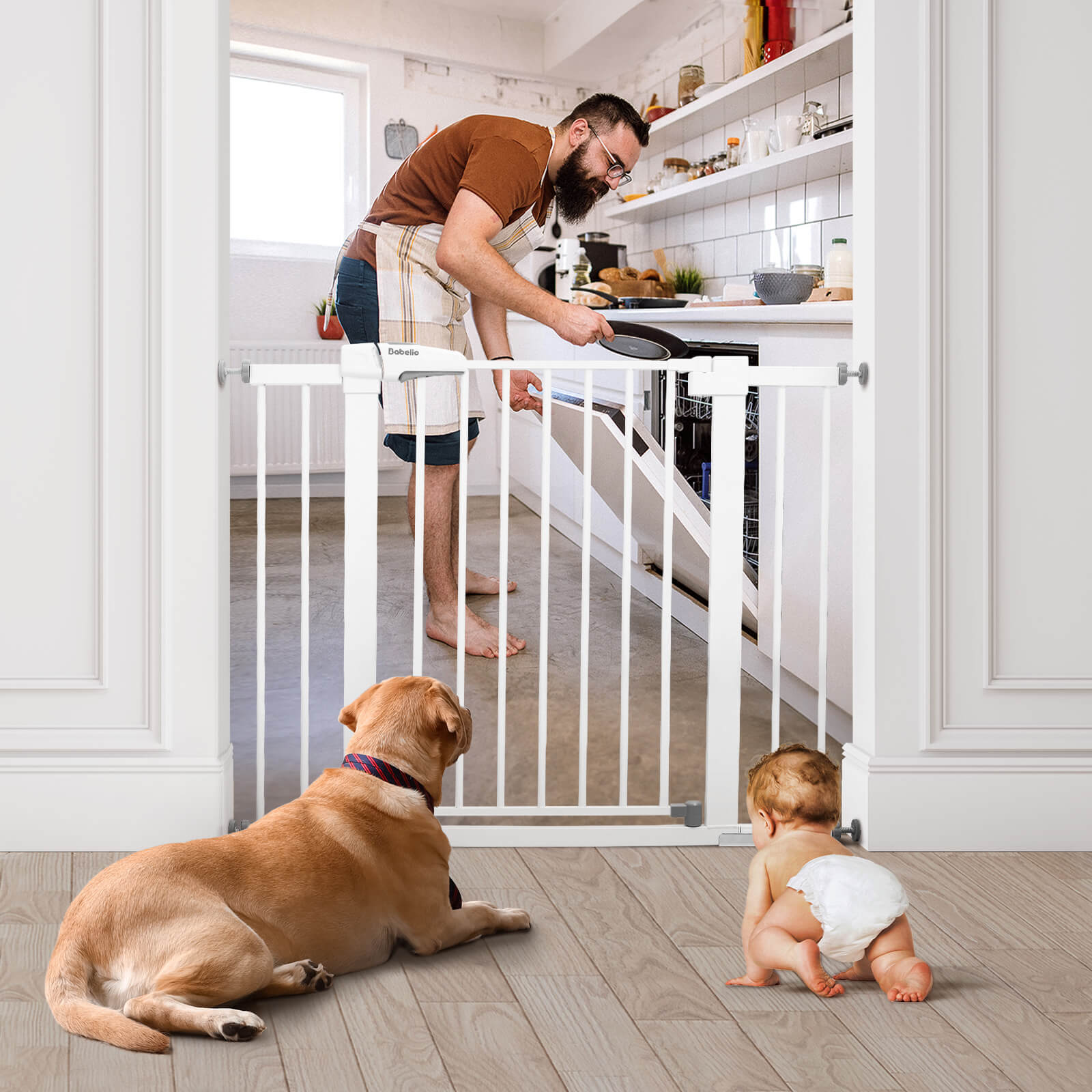 Babelio Protectors Easy Install 26-40" Metal Baby/Pet Gate 30" High
🚚 Free Shipping: 3-7 Business Days.
🛡️ Return Policy: Free 30 Days Return.
🤝Business Cooperation: Chat with us.
QUICK & EASY INSTALL: Pressure mount design that is quick to set up. No additional tools are required for installation, and no need to punch holes in the wall. Please note, before installation there will be a gap between the gate latch and the frame which is NOT a defect and it is NOT bent. This gap will be eliminated once installed.

EXTRA NARROW/WIDE/TALL: Expands to fit openings between 26-40 inches wide. Whether it is a narrow bathroom door and toilet door, or a wide doorway and stair, this safety gate is suitable. Stands 30 inches tall. Ideal for use with toddlers and small pets. Please be sure measure your opening prior to purchase to ensure proper fit.

AUTO-CLOSE FUNCTION: For added hands-free convenience, this safety gate is equipped with an auto-close function that gently closes the door behind you and a hold-open feature that keeps the door open.

This gate swings in two directions and opens effortlessly with one-hand operation.

EASY AND SAFETY LOCK : The baby gate is easy to install on the wall, and it has a walk-in door with double lock lever handles, allowing adults to pass easily. It is very suitable as a playground, a fireplace guardrail, an entrance on a stair landing, or a super gate for very large openings.

WIDELY APPLICABLE AND ADJUSTABLE: Includes a 5.5 inch wide extension kit, 2 2.75 inch wide extension kits, 2 U-bolt, 3 anti-collision grooves and 4 wall protectors. Perfect for doorway, hallway and bottom of stair with banister use. Gate can quickly be removed out of the opening for easy storage.
Material: Metal
Brand: BABELIO
Height: 30 Inch
Width: 26-40 Inch
Mounting Type: Pressure Mount
Color: White/ Black/ Grey
Auto Close: Yes
Double Lock Design: Yes

Babelio is a new fast-growing baby product brand. We care about the growing needs of babies and are committed to providing high-quality products for parents in the most creative, simple, and practical way. Every single Babelio gate is designed to align with the stringent guidelines set forth by US.
Babelio baby/pet-proof gate measures a height of 30", which effectively keeps your babies/pets from areas unwanted like the laundry room, bathroom, bedroom, stairs, outside, etc.
Features & Package Content
Self-close function for easy walking through
Dual-sided open for super convenience
Tip 1: Please use no more than 3 extensions on one gate, or it'll be not stable.
Tip 2: Please use grooves to enhance the connection for added durability.
Only Cut Zip Ties after Setup!
The zip ties help installation easier, so please only cut them off as the installation is accomplished. Tip: If you cut them off accidentally before setup, no worry! Just find anything like a rope to tie it back just the same as the gate first received.